1.MAIN APPLICATION
GFG High Efficient fluid bed dryer has more fluidized range than traditional horizontal ZG Vibrating fluidized bed dryer and can be easily cleaned. When fluidized, the material is stirred slowly avoiding the block. So it has special advantages for the high wet and sticky material. Can widely used in drying glatt, artemia cyst, cheese, milk powder, pharmaceutical powder, chemical powder, food powder etc
2.USAGE:
a. dry granule and powder materials in medicine, food, feed, chemical industry, etc.
b, screw extrusion particles, shaking particles and high-speed mixing granulation drying.
c, large particles, small blocks, sticky block material.
3.WORKING PRINCIPLE
Put the material (granule or powder) into the charging hopper. Meanwhile filter the dust in the air by the filter and heat the material to the demanded temperature by the heater. When the air gets through the Dutch sieve, the material is fluidized and dried. The steam is drawn by the fan through the dedust bags. The superfine powder will be collected by the filter bags and can be shaken back to the container after fluidizing by the upper shaking cylinder.
In the work room, Fluidization by stirring and negative pressure, water is evaporated and removed quickly, fast drying material.
4.FEATURES
This Vertical fluidized bed drying equipment charging hopper is cylindraceous with no dead angle, even drying and easy cleaning.
The filter pocket, adopting the antistatic fiber, has well ventilation and excellent dedust effect. So it is safe and reliable.
The discharged by turning over convenient, rapid and thorough.
This Fluidized bed dryer machine is equipped with stirring set in the bed avoiding the block of the material. It features the great fluidized range and quick drying speed.
Seal negative pressure operation, according to GMP specification design
The separation chamber of the bag is a circular structure, The upper and lower flange of the hopper is an inflatable seal.
We will give you factory wholesale price.
5.MACHINE LAYOUT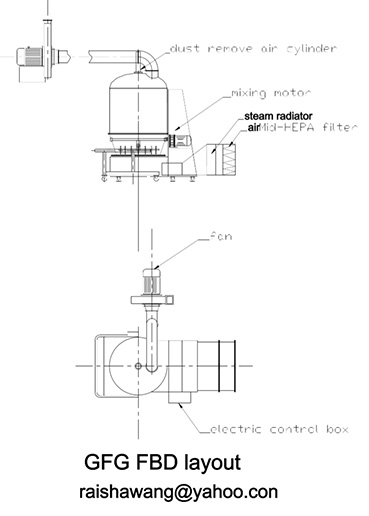 6.TECHNICAL PARAMETERS
Model
GFG-60
GFG-100
GFG-150
GFG-200
GFG-300
GFG-500
Batch charging(kg)
60
100
150
200
300
500
Blower
Air flow(m3/h)
2361
3488
4901
6032
7800
10800
Air pressure(mm)(H2O)
494
533
679
787
950
950
Power(kw)
7.5
11
15
22
30
45
Agitating speed(rpm)
11
Steam consumption(kg/h)
141
170
240
282
366
451
Operating time(min)
~15-30 (According to the material)
Operating temp.
~120℃(controllable)
Height(mm)
Round
2700
2900
2900
3100
3600
3850