Sieving machines are vital to removing as many contaminants as possible from your food flow process. Today, you may have several different sifters in your manufacturing process. There are three popular types of sifter classifications currently on the market.
1. vibratory - motion with a vertical component.
2. Centrifugal - force and rotary motion.
3. Rotary - using circular horizontal motion.
WANTONG gives you an overview of the characteristics of each of them.
Vibrating Sifting
The vibrating screen is considered to be a low-cost screening machine. It is equipped with one or two vibrating motors and the eccentric blocks at the lower and upper ends of the motion generating components cause the machine to vibrate around its centre of gravity. These units are mainly used for single pass, small batch operations: no more than 50 lbs at a time. This makes the vibrating screen an economical choice.
The simplicity of the vibratory screening operation and single-pass screening make vibratory screeners economical. The vertical component of the vibratory motion can cause the product to lose contact with the screen for a long period of time inside the machine. This can reduce product recovery efficiency, screen efficiency and directly affect process throughput per screen area based on per product flow rate.
Vibratory screeners therefore often provide solutions for small single pass operations but are not ideal for continuous flow systems. If you are just starting to screen and have low capacity requirements, this may be the solution for you.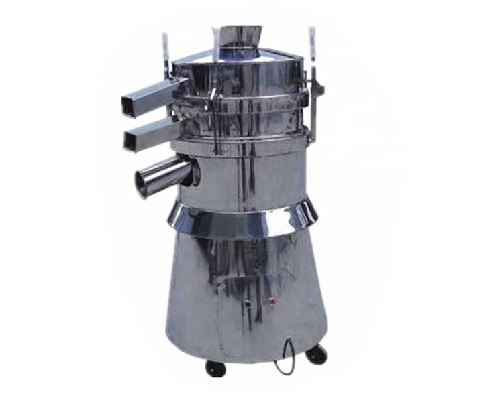 Centrifugal sifting
Centrifugal screens were originally developed for sewage treatment plants to break down solids and push them through the screen. Today, centrifugal screening machines are the second most preferred type of screening machine in the food industry. Not only are these compact machines space-saving, but they are also designed to be user-friendly - easy to operate and maintain.
Centrifugal sifters are designed to forcibly break down agglomerates in certain materials. However, as the system is not designed to identify the difference between a good quality product and waste, there are problems: contaminants may be broken down into smaller particles which can also pass through the cylindrical screen and directly into the finished product.
Centrifugal screening is not suitable for handling friable materials as it may be more difficult to maintain the desired product quality. The vigorous screening action can cause the paddles to damage the friable material, resulting in an unacceptable change in particle size distribution.
Rotary sifting
Rotary screens set the industry standard for quality and hygiene. Independent operator testing confirms that rotary screeners filter contaminants better than any other screening technology (vibratory/centrifugal). For commercial screening operations, rotary screeners offer higher throughput and improved contaminant capture.
With its purely horizontal motion, a rotary screen can have multiple screens of the same screen size in the same machine, where the product actually flows in different directions. This gives the machine a significantly larger overall footprint in terms of screen area compared to any other type of machine.
Rotary screening machines produce a horizontal rotary screening action that is ideal for removing, grading or fines from dry, free-flowing powders. This sieving motion retains material longer, has a slower and gentler sieving action and minimises vertical agitation.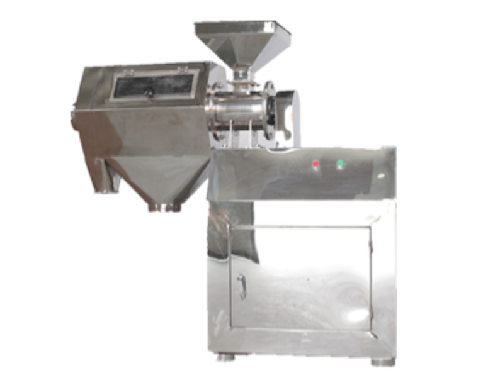 Our company is a professional manufacturing factory in grinding, mixing, drying, granulator, sifter machine and conveyor SE type powder line machinery in Wuxi city, Jiangsu province. Widely used in chemical, pharmaceutical, foodstuff industries, etc. Please contact us if you need and we pffer professional suggestions.